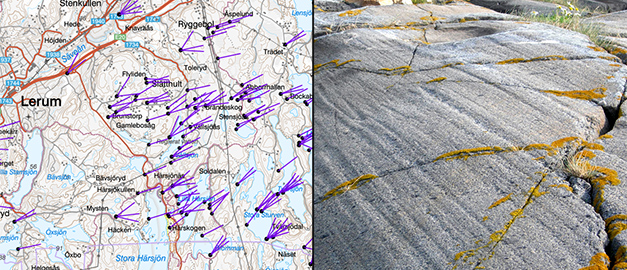 Glacial striations
The map viewer "Glacial striations" shows the position and direction of glacial striations and is intended to provide information about the movements of inland ice.
Glacial striations are formed when boulders, stones and gravel that were frozen in the base of the inland ice gouged and abraded the surface of the bedrock.
The striations show the direction of ice movement at a certain stage. The direction indications (360 degrees system) refer to the location from which the ice moved toward the observation site. In some cases, the product contains information on the relative ages of different glacial striation systems at the same observation site.
The accuracy of the position may vary depending on the map document used to acquire the information. The accuracy of the direction indications can be estimated at +\- 5 degrees.
Go directly to the map viewer Glacial striations (new window)