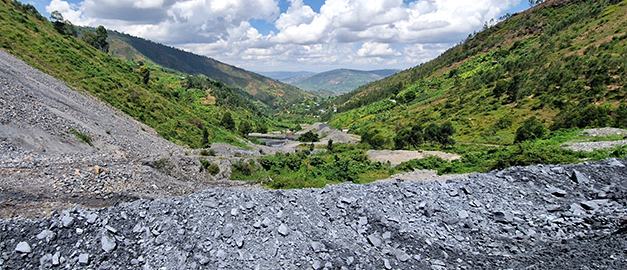 17 August 2023
Mining, Environment, and Sustainable Development at the ITP Conference in Rwanda
Enhancing the capacities of authorities working towards sustainable mining industries in low- and middle-income countries with significant or growing mining sectors takes center stage in SGU's international capacity development programme on mines and the environment, ITP308 – Mine water and mine waste management. At the end of August, the programme will hold a regional conference in Kigali, Rwanda, with participants from five African countries.
Within the EU, we consume roughly a quarter of the world's raw materials but produce only a small percentage. Presently, the EU's dependency on imports from outside the union is substantial, and the metals found in our phones, computers, and vehicles come from all over the world. The green transition and digitalization are expected to contribute to a more fossil-free and resource-efficient society, making these mineral resources crucial for development. At the same time, mining operations, which produce the demanded metals and minerals, can pose risks to both human health and the environment if not effectively controlled through legislation and knowledge.
A significant portion of the resources we use are produced in Africa, where sustainable production is not always achieved. In countries lacking extensive experience in mining and mineral resource management, the new and increased demand for metals and minerals can lead to environmental degradation and social vulnerability instead of economic growth and improved living standards. As part of the effort to enhance the capacities of authorities working towards sustainable mining in countries with significant or growing mining sectors, SGU, since 2018, has collaborated with Luleå University of Technology and the Swedish Environmental Protection Agency on an international capacity development program on mines and the environment, ITP308 – Mine water and mine waste management. The program is funded by Sida.
The capacity development programme collaborates with authorities responsible for matters regarding mining and environment in Kenya, Tanzania, Zambia, Rwanda, and Liberia. Programme participants mainly consist of inspectors, geologists, and other professionals engaged in supervision and permitting of mining activities. Most of the training is conducted online for both economic and environmental reasons.
During each training cycle, participants carry out so-called change projects in their home countries. These projects aim to improve systems and practices within the respective authorities of the participating countries. In the long term, these changes are intended to lead to better decisions and governance of the mining sector in the country, helping to strengthen global sustainability goals. The completed projects have thus far focused on areas such as guidelines for handling mine waste and environmental inspections in small-scale mining. Participants receive guidance from SGU's ITP team, who are experts in sustainable mining. Each cycle concludes after 10 months with a regional conference in one of the participating countries where the change projects are presented. The regional conference also includes site visits and guest lectures by relevant stakeholders.
In late August 2023, participants from the programme's sixth group will travel to Kigali, Rwanda to meet SGU's ITP team for site visits to mines, discussions on sustainable mining, and presentations of their programme projects. In October, the programme will continue its education with its eighth consecutive group. During this training session, SGU's ITP team will be present in training rooms in Kitwe, Zambia, and Nairobi, Kenya.
Learn more about the change projects presented by participant countries
Learn more about the ITP programme