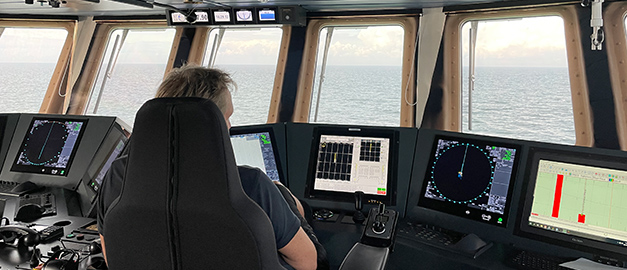 28 August 2023
Investigating locations for carbon dioxide storage
Marine seismic investigations outside the coast of Skåne and test drilling on southern Gotland: the Swedish Geological Survey (SGU) is now commencing two important projects within the framework of our government assignment to investigate the potential for permanent carbon dioxide storage within Swedish bedrock.
– Carbon dioxide emissions must be reduced if Sweden is to reach the climate targets, and bedrock storage of carbon dioxide constitutes one of several important tools. As an expert government authority, SGU can contribute knowledge in order to enable national storage. This will make us less dependent on other countries in our efforts towards the climate transition, says SGU Director General Anneli Wirtén.
SGU has been commissioned by the government to investigate suitable locations for carbon dioxide storage at sea. Earlier assessments have identified two Swedish marine areas with potential for storage of carbon dioxide: southwest Skåne in southern Sweden and in the southeastern Baltic off the coast of Gotland. These areas contain the deeply seated and porous sandstone bedrock layers which could provide storage sites, so-called reservoirs, for carbon dioxide.
– The next step is to specifically identify and assess potential reservoir sites. To do this, we need more knowledge on geological conditions and more up-to-date bedrock data with higher resolution, says Lena Yotis, SGU project manager for the assignment.
Geological carbon dioxide storage is permissible in Sweden, but full-scale storage is only permissible beneath the seabed. Using methods of marine geology the seabed and its bedrock will be mapped, using advanced acoustic and seismic methods. The investigations will be carried out from the especially equipped SGU vessel S/V Ocean Surveyor, in cooperation with GEUS, the Geological Survey of Denmark and Greenland, and with Aarhus University.
– We are undertaking the seismic investigations at sea during a period lasting until the end of September. This avoids the most sensitive calving periods which means less disturbance to marine mammals that are sensitive to sub-surface noise like the low-frequency emissions from seismic investigations, says Lena Yotis.
In order to assess the storage potential, data from drill cores are also required. The project encompasses both the digitalisation of existing drill data and new drilling investigations. Because drilling at sea is costly as well as complex, SGU will be undertaking investigations from land in locations where the sandstone bedrock is seated as deeply as possible. Drilling will take place down to some 800 metre depths using the so-called Kingdom Rig (Riksriggen), in cooperation with Uppsala University. Each drillhole will take around one month to complete.
CCS Facts
The government assignment to SGU, with final reporting in the spring of 2026, forms part of the Swedish government initiative to further the implementation of CCS and Bio-CCS. CCS is short for Carbon Capture and Storage, and involves the capture of carbon dioxide, e.g. from flue gas emitted by power plants or process industry. Once captured, the carbon dioxide is compressed into liquid form, then transported and permanently stored deep down within the bedrock.