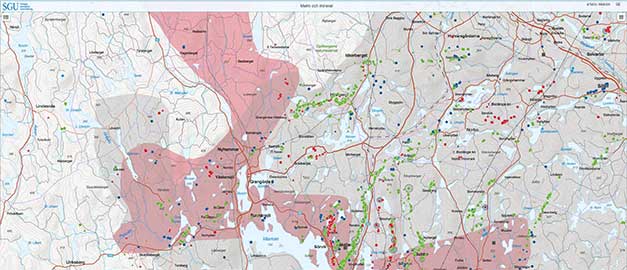 Ores and minerals
The Ores and minerals map viewer shows information from SGU's databases on Sweden's assets of metals, industrial minerals and rocks.
The map layer "Metallogenetic areas" indicate larger areas with similar mineral deposits and mostly with similar bedrock geology.
The map layer "Mineral and bedrock resources" contains information on metal-, industrial mineral- and rock occurrences and hydrocarbon prospects in Sweden. An occurrence can vary in size from a mineralized outcrop and up to larger bodies such as closed or producing mines.
The map layer "Ores and concentrators" shows ore production with metal contents and current status of c. 680 mines and mining areas, reserves and resources for 275 mineral deposits and information on the dressing process of ore at around 400 concentrators.
The ore layer of "Ores and concentrators" and "Metallogenetic areas" are the Swedish contribution to the Fennoscandian Ore Deposit Database (FODD) – a common ore database of the Fennoscandian Shield. The Geological Survey of Finland is host for the database.
In addition, the map viewer shows exploration permits and exploitation concessions for metals and industrial minerals, and oil, gas and diamonds, respectively. These data are provided by The Mining Inspectorate of Sweden.
To the map viewer Ores and minerals
Choose English version inside the map viewer by clicking the flag in the upper right corner.