23 September 2021
New bedrock maps over parts of the mountain region (Fjäll) in Swedish Lapland, Västerbotten and Norrbotten Counties, Sweden
There are now new bedrock maps with an accompanying description for the mountain region between the River Umeälven in the south and Mt. Ammarfjället and Lake Gautojaure and River Laisälven in the north. The maps and descriptions have been produced by collaboration between two universities in Germany and the SGU (Sveriges geologiska undersökning, Geological Survey of Sweden).
The maps summarize bedrock geological mapping of the area carried out 1995–2017 by students from Ruprecht Karl University of Heidelberg and Karlsruhe Institute of Technology (KIT) under the supervision of Prof. Reinhard Greiling and Dr. Jens Grimmer. In addition, field diaries and associated outcrop maps from SGU's archives were used. The results of the mapping are also included in the bedrock geological databases at SGU and can form the basis for planning and resource management for exploration companies, municipalities and county administrative boards.
The bedrock maps of the map areas 25G Ammarnäs NW, NE, SW & SE and 24G Umnäs NW, NE, SW & SE and the associated description for 25G Ammarnäs and 24G Umnäs are now published as downloadable PDF files. The PDF files are of particular value to the tourism industry and the geology-interested mountain hiker.
The bedrock in the area consists of overthrusted nappe units that range from the Lower Allochthon in the southeast, the Middle Allochthon and the Seve nappes to the lower part of the Köli nappe in the Upper Allochthon in the northwest. The overthrusted bedrock rests on a thin autochtonous cover sequence of sedimentary rocks and an older crystalline basement.
See all maps and descriptions in SGU Geolagret (in Swedish)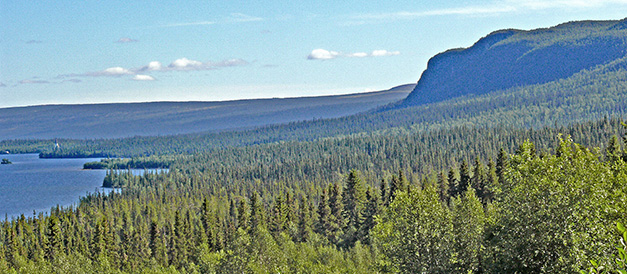 Photo: Reinhard Greiling.