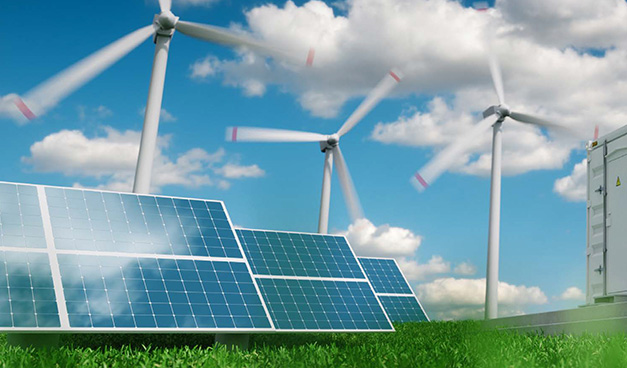 28 September 2021
The potential for critical metals and minerals in the Nordic bedrock is highlighted in a new report to the Nordic Council of Ministers
In collaboration with the corresponding organisations in the other Nordic countries, the Geological Survey of Sweden has produced a report that shows the known potential to extract critical metals and minerals in the Nordic countries, but also highlights the need for new studies and research. These critical raw materials are in several cases vital for a green energy transition.
The extensive transformation of our society and industry in the form of the green energy transition that is introduced today to decrease our generation of greenhouse gases represents fundamental changes in how we produce, use and store energy. Such major technological changes that affect the entire society also lead to the emergence of new and rapidly increasing demands for specific raw materials. Examples of such materials are the metals cobalt and lithium, critical for the new battery industry together with the mineral graphite, as well as rare earth elements (REE), which, among other things, are fundamental for traction engines in electric vehicles and generators in wind turbines.
Nations are dependent on a range of minerals, metals and materials that are the essential building blocks of the products we use every day. Many of these required metals and minerals are also classified as Critical Raw Materials (CRMs) for the EU. Fundamental for this classification is that the CRMs are defined as raw materials of high importance to the economy and whose present supply is associated with a high risk of disruption. As European production of these metals and minerals is characteristically lacking, the EU industry is therefore relying on imports from worldwide sources, with China being one of the major present suppliers. The report shows that the Nordic countries have a good potential to produce several of these raw materials, based on available data.
The Nordic countries represent a large share of European land and have a partly large geological diversity, while also having an active mining and metal processing industry that both has a long history and is at the forefront when it comes to new environmentally friendly technology. However, the distribution between the different countries is uneven, depending on contrasts in their respective geological evolution. The state of knowledge for several of these metals and minerals is also variable and generally low compared with traditional base and precious metals. It is therefore recommended that new studies and research are initiated as soon as possible. To secure the value chains for critical raw materials in Europe, not least in view of the escalating demands for metals and minerals to implement a green energy transition, broad and decisive measures are needed in a near future in which the Nordic region can play an important role.
The work on the report was carried out by experts from the geological surveys of Sweden (SGU), Finland (GTK), Norway (NGU), Denmark and Greenland (GEUS), the Greenland Ministry of Mineral Resources, the Norwegian Mining Authority, the Iceland Energy Authority and Reykjavik University, and was led by the GTK. The Nordic Council of Ministers' organization Nordic Innovation has funded the work and the report was presented to the meeting of the Nordic Council of Ministers in Helsinki in September 2021.
Eilu, P., Bjerkgård, T., Franzson, H., Gautneb, H., Häkkinen, T., Jonsson, E., Keiding, J. K., Pokki, J., Raaness, A., Reginiussen, H., Róbertsdóttir, B. G., Rosa, D., Sadeghi, M., Sandstad, J. S., Stendal, H., Þórhallsson, E. R. & Törmänen T. 2021: The Nordic supply potential of critical metals and minerals for a Green Energy Transition. Nordic Innovation Report, 93 p. ISBN 978-82-8277-115-3 (digital publication).
Read the report The Nordic supply potential of critical metals and minerals for a Green Energy Transition