27 December 2020
The Geological Survey of Sweden develops innovative approaches for international training programme during the Covid-19 pandemic
Participants and organisers of the SGU's 'Mine water and mine waste management' programme (ITP308), move ahead with innovative ideas and new plans for the future, despite the continued impact of the Covid-19 pandemic.
The Geological Survey of Sweden organises a Sida-sponsored training programme aimed towards African government authorities working with mining, sustainability and human rights. Within the programme, the SGU has arranged training courses in Malå as well as conferences abroad. However, due to infection risks and travel restrictions, all of the planned activities throughout the year has had to be cancelled. Nonetheless, to reach the goals of the project, i.e. strengthen government authorities' capacities to deal with challenges associated with mining and sustainability, the SGU has developed and expanded on its digital training material. This material is available for anyone and everyone, at the SGU's website.
Read more about the Mine water and mine waste management programme
Below are links to some of the digital training material: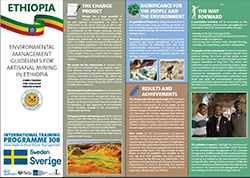 During 2021 the programme participants have also kept up the work on their so-called change projects. These projects are prepared within, and by, their organisations with mentor support from the SGU. In the autumn one of the Ethiopian groups reported that their change project regarding artisanal and small-scale mining, which was presented in Addis Ababa in 2019, will be integrated into a national guideline.