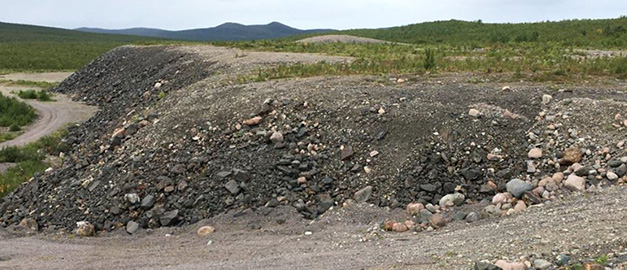 9 November 2023
Mining waste in Northern Lapland could be a future resource
In this second report from the results from sampling of waste from closed Swedish mines, SGU look at the northern parts of Lapland in Sweden. The results show high grades of lead, copper, and zinc from waste rock and tailings from three closed mines: Viscaria, Pahtohavare and Laisvall.
A total of 70 locations was sampled by SGU during 2021 and 2022, with altogether 1,067 samples. A series of reports present background information and available data for each of these locations, as well as the results from the new investigations.
This report covers a subset of the investigated locations within the directive, from the northern parts of Lapland in Sweden. Sampling was conducted at three locations at the mine sites of Viscaria, Laisvall and Pahtohavare. At these mines, copper, zinc, and lead have been enriched, but also some gold.
– Especially for copper, the grades are comparable to ores extracted from active mines today; however, additional work is needed to evaluate if copper is extractable from these specific occurrences of mining waste, says Roger Hamberg, state geologist at the Geological Survey of Sweden.
Read the report Characterisation of mining waste in Northern Lapland, Sweden
In 2021, the Geological Survey of Sweden together with the Swedish Environmental Protection Agency received a governmental directive to work to increase the possibilities for sustainable extraction of metals and minerals from secondary resources. The work is intended to contribute to the transition to a more circular and resource-efficient economy. The directive in its entirety was reported to the government in February 2023.