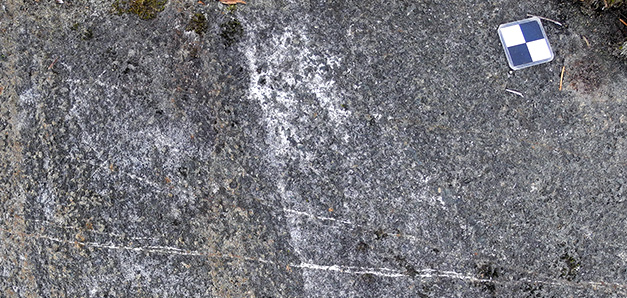 22 March 2021
Potential for base metals and platinum group elements within the Bergslagen region
Investigations carried out by SGU in the Bergslagen region show potential for base metals, such as nickel and copper, as well as platinum group elements (PGEs) to occur in economically significant concentrations.
Presently, global demand for innovation-critical metals, such as PGEs, is high and continues to grow. The Geological Survey of Sweden has conducted a study to investigate the potential for PGEs as well as base metal deposits in basic intrusions within the Bergslagen region, Sweden. The study focuses on the Flinten and Fullen intrusions but also addresses a series of abandoned mines within other basic intrusions, such as the Kuså gruvor and Gaddebo gruvor.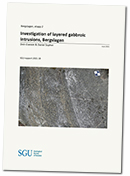 Basic intrusions within the Bergslagen region exhibit potential to host economically significant deposits of base metals such as nickel and copper together with PGEs. Presently, the known Ni-Cu sulphide deposits are often located within smaller gabbroic intrusions, where further potential clearly exists. However, the potential for mineralisation within the larger basic intrusions as well as any potential connection between the different basic intrusions within the Bergslagen region is still poorly understood.
Within this study two of the larger basic intrusions within the Bergslagen region, the Fullen and the Flinten intrusions have been investigated. As part of the study the geometry of the magmatic layering within these intrusions has been interpreted and modelled, utilizing airborne and ground based magnetic measurements. Furthermore, 2D and in some cases 3D magnetic and gravity modelling has been performed to investigate the structure and thickness of the intrusions. The results of these large-scale modelling efforts are supported by detailed ground magnetic measurements and outcrop observations. The results of the data analysis and modelling are discussed in the context of the formation and mineralization potential of these intrusions.
Lithogeochemical analysis results indicate increased levels of PGEs within the large Flinten and Fullen intrusions as well as within the smaller gabbroic intrusions, where Ni-Cu sulphide mineralisation is known to occur. The PGEs consist of six elements: platinum, iridium, osmium, palladium, rhodium and ruthenium. Almost half of all PGE production goes to car catalysts, where no replacement material is available. PGEs also have important uses in the chemical and oil industries as well as in the manufacture of electronics.
Read the SGU Report Investigation of layered gabbroic intrusions, Bergslagen