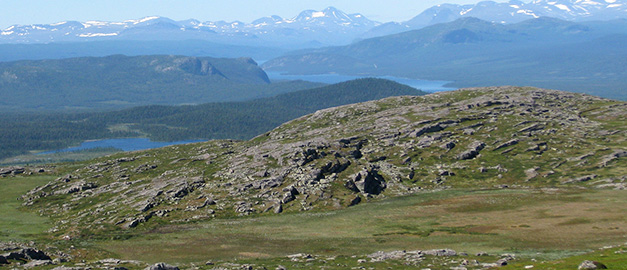 21 April 2021
Interesting magmatic events at the Hárrevárddo intrusion in Norrbotten County
Surveying by the SGU in southwestern part of the Norrbotten County reveal complex magmatic events at around 1 780 Ma ago. This study contributes to our knowledge of how the magma penetrated during this time and to the evolution of igneous systems.
The focus area of this study is located south of Kiruna, in the north-western part of the Fennoscandian Shield, in the Norrbotten County, Sweden. The Hárrevárddo intrusion is a newly recognized structurally complex intrusion, which is seen as a more than 500 km2, round structure consisting of several pulses of magma, all of which are coeval. With the rocks outside the circular geophysical anomaly, for the most part to the west thereof, that are interpreted to be of the same age or just somewhat older, the area at the surface of these rocks occupies more than 800 km2.
The Hárrevárddo intrusion is bimodal in composition and lacks major later tectonic overprinting. The most common rock types range from granite-monzonite to monzodiorite-gabbro, where most are K-feldspar porphyritic. Rare lamprophyric dykes also occur.
We use 2.5 and 3-dimensional modelling of aeromagnetic and gravity data in order to assess the subsurface geometries of rocks exposed at the surface. The 3D geophysical modelling and field observations, lithogeochemistry, petrography presented suggest that the Hárrevárddo intrusion was constructed by intrusion of multiple pulses with a wide range of compositions. Several incremental injections of differently sized magma pulses are envisaged for the construction of the Hárrevárddo intrusion from the geophysical modelling, forming a lopolithic rather than laccolithic shape of the intrusion. The pulses of magma were probably tabular and not diapiric due to the crustal depth at which the Hárrevárddo intrusion formed. A ring structure with layered gabbro at the Hárrevárddo summit itself is interpreted to have been formed in connection with a emptying of a magma chamber, which resulted in formation of a caldera and faults being created in the crust, used as conduits for intrusion of the basic magma. Furthermore, the observations and data presented are interpreted to show that there was a regional, syn-magmatic, extension-related deformation in the study area c. 1780 Ma ago.
This study contributes to our knowledge of igneous processes regarding magma emplacement within the crust during the Paleoproterozoic (late-Orosirian to early-Statherian) and to the evolution of igneous systems.
Multiple pulses of bimodal magmatism within the Hárrevárddo intrusion, Norrbotten County, Sweden, SGU-rapport 2021:20