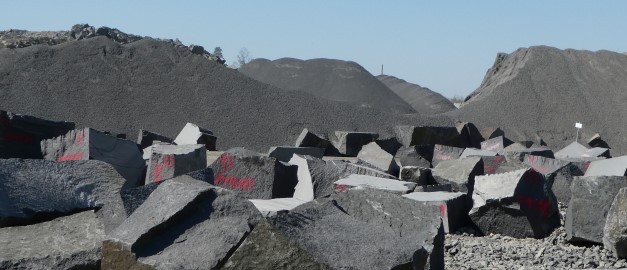 Natural stone
Rock materials of various kinds are used as building stone, for example, for building façades, stairs and kerbs. In Sweden, we use granites, gneisses, black granite (diabases and hyperites), limestones, marble, sandstones and shales as building stone.
The properties of the rocks determine the possible applications. Important properties include the rocks' colour, colour intensity, colour blend, grain size, structure and texture. It is also important for the appearance and colour of the stone surface to be durable and for the rock to withstand weathering and discoloration.
When investigating the technical properties analytical methods are used to measure density, water absorption, shape change upon water absorption, porosity, resistance to abrasion, finishing quality, compressive strength, permissible compressive stress, flexural strength, permissible flexural stress, elasticity, linear expansion and frost resistance.
Also decisive to the possibility of extracting the stone is the block size that can be obtained. The blocks must, for example, be free from fine cracks, pits, blemishes and streaks.
It is only a small part of the stone extracted that is of sufficiently high quality to be used as building stone. For this reason, there are large stockpiles of what are known as boulders. In many cases, this material is used as aggregate stone.
Active natural stone quarries in Sweden are included in the
Aggregates map viewer (in Swedish, new window)
The use of natural stone is increasing
The use of stone is on the rise worldwide. This is partly due to the beauty of natural stone and its long life. Besides this, compared with other materials, very little energy is used during the stone's life cycle as a building material, i.e. from extraction to use.
National interests
SGU has demarcated a number of national interests for building and monumental stone.
Areas with mineral substances of national interest (pdf in Swedish, new window)
Map viewer National interests, minerals (new window)
Licensing
Prospecting for natural stone requires the landowner's permission. Applications for permits to mine (extract) natural stone (production permits) are received by the County Administrative Board.
Licensing is regulated in the Swedish Environmental Code.
Suggested reading:
Nordic Stone, UNESCO Publishing, Geological Science Series (eds. O. Selonen & V. Suominen), 2003, p. 64.