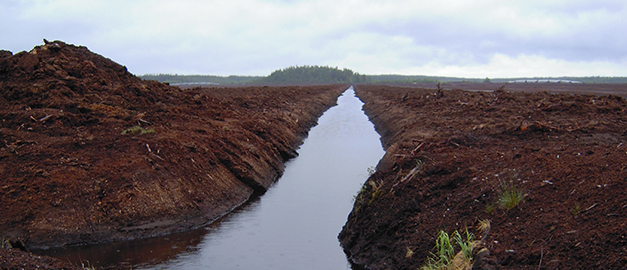 Peat
Sweden is one of the most peat-rich countries in the world, with peatlands making up 15% of the Swedish land area. Peatlands have long been worked by man. Today, forestry is the most significant use of peatlands.
Forested peatlands have been extensively drained to increase forest production. Some peatlands were even drained and reclaimed for use as agricultural land. The draining of peatlands gained momentum in the second half of the 1800s and continued until the late 1900s. Today, peatlands are dewatered to a comparatively very minor extent.
Today, the area utilised for peat cutting is small, but many peatlands bear traces of previous peat cutting. Peat from peat pits is used mainly as a source of energy and as horticultural peat for plant cultivation. Peat accounts for a very small part of Sweden's total energy production and is used as fuel at district heating plants and then usually together with various types of biofuels.
Sweden is a significant producer of horticultural peat in Europe. Production mainly takes place in southern Sweden. Horticultural peat is used in the form of traditional garden soil and as plant substrate in large-scale greenhouse cultivation.
Peat cutting
When setting up a peat pit, the peatland is cleared of any forest and drained using trenches. As the peatland dries, it becomes possible to extract the peat from the peatland. The peat is taken in from the peatland during dry weather in the spring and summer and is stored and dried in large stacks adjacent to the peat pit. Peat production is heavily dependent on weather, and in summers with wet and cold weather, production is much lower than when the weather is more favourable.
Statistics on the Swedish production of peat are available on the Statistics Sweden website.
Statistics Sweden (new window).
Regulations and SGU's assessment of peat matters
The extraction of energy and horticultural peat is controlled by the Swedish Environmental Code. Permissions for peat excavations are granted by the Environmental Permit Office, with SGU as an optional referral body. SGU's main task is to assess whether the deposit's peat layer is of a quality suitable for peat production and if the peatland is suitable for production. Some peatlands are not suitable since a peat extraction might affect a groundwater magazine negatively or are in a pristine condition with the function as carbon sink intact. If the bedrock surrounding the peatland has elevated concentrations of uranium, the uranium content of the peatland needs to be analysed to ensure that combustion does no result in ashes with a too high uranium concentration.
Peat guides
The SGU report below gives a description of important geological factors that need to be taken into account when applying for extraction of peat. The report is in Swedish.
Geologiska undersökningar och bedömning av hydrologisk påverkan vid ansökan om torvtäkt, SGU report 2016:05 (new window)
The Swedish Environmental Protection Agency has an Examinations guide for peat pits, but this too is only in Swedish ("Prövningsvägledning för torvtäkter").
The Swedish Environmental Protection Agency (new window)
Peat information at SGU
Overview information on mire types and distribution is available in the soil databases and in older map sheet descriptions. SGU holds extensive detailed information from older peatland surveys collected in a special peat archive.
The "Peat" map viewer displays information that may be useful for planning and overview inventories for the extraction of energy and horticultural peat. Areas that consist of peat according to SGU's mapping of soils are displayed in the map viewer together with information that may be significant when assessing their suitability for the establishment of peat cutting. Examples of such information are results from the Swedish Environmental Protection Agency's wetland inventory and information on areas for which airborne geophysical measurements show high levels of radiation from uranium.