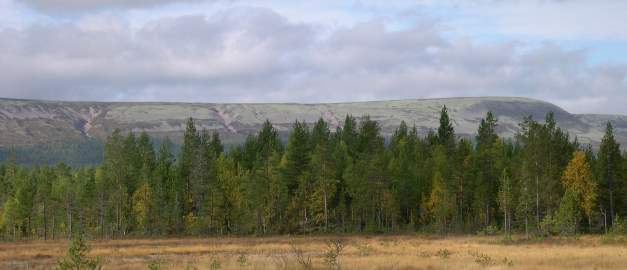 Fulufjället national park
The Fulufjället national park was set up in 2002 and is situated in the northwestern part of the province of Dalarna adjoining the Norwegian border. Its surface area is 385 km2, two-thirds of which consists of fell and mountain moors. A visitors' centre and café is situated along the Njupeskär trail.
The mountain consists of a flat sandstone plateau with steep forest-covered sides. The highest point is 1,042 m above sea level.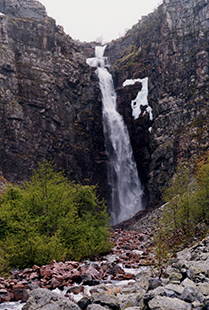 Njupeskär is Sweden's highest waterfall with a free fall of 70 m.  
Photo: Curt Fredén, SGU
The national park's main public attractions are the precipice from which Njupeskär, Sweden's highest waterfall with a total height of 93 m, plunges and the spectacular erosion marks along the Göljån valley left by an intense rainstorm in 1997, when about 400 mm of rain fell in one day. The swollen river swept through the valley, eroding the rock, stripping the deposits off the slopes and breaking new channels.
Several watercourses have eroded the bedrock and exposed sandstone structures that were formed about 1,300 million years ago. Ripple marks indicate that sedimentation took place in shallow water and mud cracks indicate that the climate was arid. The sandstone is cut through by dolerite dykes. Along the watercourses you can see stones of greenish Särna tinguanite, which is not found anywhere else except in the northwestern Dalarna area.
On the fell a variety of soil landforms are exhibited, including hummocks, solifluction lobes, potholes, stone rings, striations (erosion marks) both from previous glaciations and from the melting of the most recent inland ice, lateral drainage channels, subglacial chutes and ice-lake terraces, as well as ongoing erosion processes.