Books
The books SGU has for sale are presented here.
Geochemical Atlas of Sweden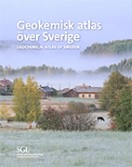 Editors: Madelen Andersson, Mikael Carlsson, Anna Ladenberger, George Morris, Martiya Sadeghi, Jo Uhlbäck.
The Geochemical Atlas of Sweden presents a national compilation of soil geochemistry. With this atlas, SGU provides information on natural occurrence of elements and their spread in soil and water. The book is richly illustrated with maps, statistics and descriptions of the properties of elements.
The book comprises 210 pages and all information is given in both English and Swedish.
The book can be ordered from SGU's customer service at the cost of 150 SEK.