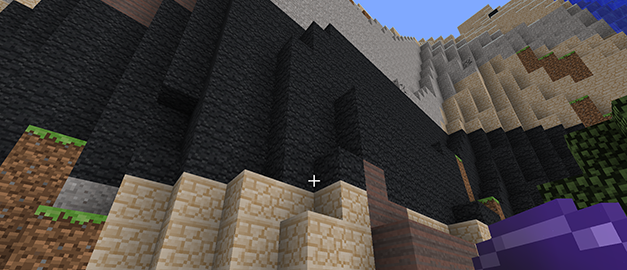 BetterGeo – Minecraft with more geology
BetterGeo is SGU's modification (mod) for Minecraft. By introducing more realistic geology in the game, we want to increase the public knowledge and understanding of Geology and its importance. The original version of Minecraft, Vanilla, is based on geology – to find, mine and refine different resources. We have continued with the geology theme and increased the geological content and also made it look more like reality. This is a description for you as a gamer where we present the new content found in the modification BetterGeo.
SGU's modification BetterGeo for Minecraft aims to increase knowledge and interest about the field of Geology and its importance to society. Just like in the original version of Minecraft, BetterGeo is mainly focused on providing the gamer with the joy of discovery but in addition also delivers an exciting package of new geological features.
The online game Minecraft is played by gamers of all ages and has been sold in over 54 million copies worldwide. One of the key tasks of this adventure game is to discover deposits in the landscape and to extract and use these materials to create tools, construct buildings, and so on - ultimately exploring different environments and new ways to defeat monsters in order to survive in the game. In the original version of Minecraft (Vanilla) the geology is very much simplified, with deposits appearing randomly. BetterGeo is here to contribute with more realistic geology.
More rock types, soils, metals, minerals and areas of application
The aim of SGU's modification BetterGeo is to increase the public interest and understanding of Geology and its importance to society. BetterGeo comes with a package of several rock types, minerals, and metals, and delivers realistic geological environments into Minecraft. For instance ore deposits are limited to realistic geological sequences, which increase the thrill of exploration. In addition, realistic refinement processes and new areas of application for the introduced materials have been created to allow the gamer to build new items which will be helpful in the game.
Explore and have fun!
In reality, geological systems are complex – therefore the geology of BetterGeo comprises a simplified model. But we still think that BetterGeo is a good start when it comes to introducing geological concepts and materials. The content of BetterGeo provides a new level of geology to the Minecraft gamer. You can become a treasure hunter when you realise that diamonds can be found in kimberlite pipes, gold can be found in quartz veins or be panned in river beds, and that the flower Viscaria can be used as an indicator of copper deposits in the nearby ground.
The Minecraft mod BetterGeo is part of the Public Awareness Measure within the Swedish Minerals Strategy.
Short history
The release of our beta version of the Minecraft modification BetterGeo will be 7th of May 2015 and BetterGeo have been updated several times after that, You will be able to download the latest version here on our website (your personal license to Minecraft is required).
Contact
We would like to get feedback from you. We will, as far as possible, be available through the Minecraft forum (www.minecraftforum.net) to review your feedback, suggestions and questions. You can also mail us at bettergeo@sgu.se
Download our pdf
In this pdf can you find all information that you will need to use BetterGeo.
(only available for computers)
Instructions for installing BetterGeo