BUSIER THAN EVER: MINE WATER AND MINE WASTE MANAGEMENT
Coming into 2023, the programme is gearing up for its busiest year to date. Two groups are having their Regional Conferences in March and August/September respectively, and two more are starting their ITP308 journey by joining the ITP 308 Online training modules in May and October.
By the end of 2022...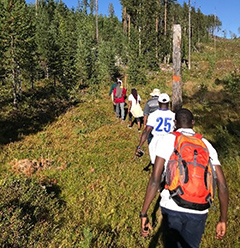 ...group four had visited Malå, Sweden for their Regional Conference. The visit included change project presentations, guest lecturer, field visits to nearby mine sites e.g., Boliden, Kristineberg and Blaiken, Svärtträsk, but also some cultural activities such as a visit to the underground church and mine museum in Kristineberg. This was the first online group of the programme and their change projects included numerous training related projects such as tool kits, manuals and awareness material.
Read more about the Change projects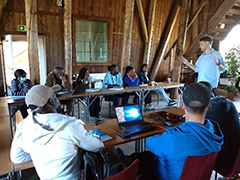 Group six, started their training in September with participants from Zambia and Kenya staying in Kitwe, Zambia for the training and the group with Liberia, Tanzania and Rwanda in Tanzania. Never has the programme had so many birthdays during its training period so thanks to everyone for the not-so-synchronised online birthday singing! Nonetheless, in between all the cake eating, we did manage two weeks of training about mine water and mine waste management resulting in the start of five new change projects and capacity building of 26 government officials.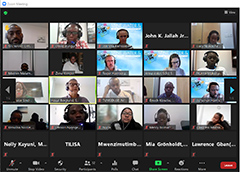 2023
March brought with it the first Regional Conference in Africa for an Online group. Group five, visited Kitwe, Zambia at the end of March and had three days of field visits to nearby mines followed by two days of presentations including the change projects by the participants. The Swedish Ambassador to Zambia was present during the final day noting the importance of the programme and listening to ITP308 alumnus Eng. Yoram Chulu from MMMD talking about TSF collapse in Zambia and Jonathan Hamisi from SGU tying small-scale mining with climate change.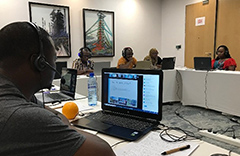 Later in the year we look forward to welcoming two new groups to the programme and completing one. Group seven is starting their online training programme in May, with one group staying in Nairobi (Kenya, Tanzania) and one group staying in Kigali (Liberia, Zambia and Rwanda). Group six will have their Regional Conference in August/September in a soon to be decided location and group eight has a call out that closes at the end of May and with training in October.
Applications can be located here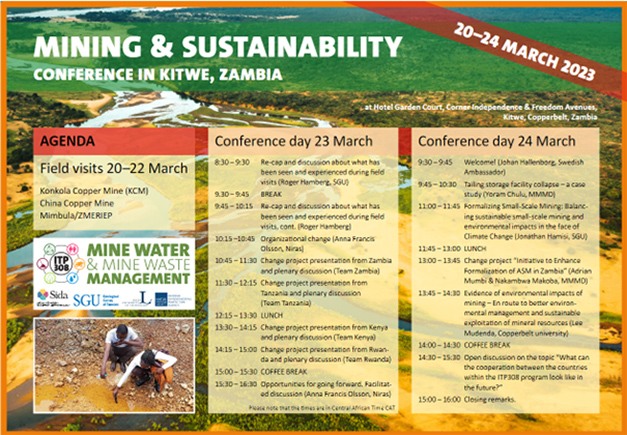 Agenda flyer for the Regional Conference in Kitwe