APPLY FOR THE PROGRAMME
Learn more about the application process and requirements.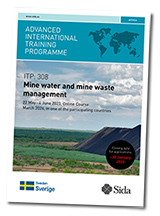 Below you can rad more about the next programme, the application process and requirements. You will also find information about the programme objectives and structure.
Download information about the next programme
Apply by download and fill in the application form:
Invited countries
Kenya, Liberia, Rwanda, Tanzania and Zambia are prioritised countries. The participants, and the change project they propose, must be supported by their organisation with a clearly stated commitment for the applicant to participate in all phases of the training and to support, implement and finalize the change projects.
Target group
The programme invites applicants from government authorities involved in permitting and inspecting mines such as environmental protection agencies, mining inspectorates, mine safety departments or equivalents.
The applicants should have an academic background and work duties that involve participation in permitting or inspection of mines or management of such processes. Engineers, geoscientists and environmental specialists with a bachelor's degree or higher will be prioritized. Project managers, economists or other experts that actively contribute to the agency's core functions are also encouraged to apply. We aim for a balanced mix of participants and genders in the ITP 308, and encourage organisations to nominate both men and women for application.
Applicants should propose change projects that have a direct bearing on the management of mine waste and mine water. The applicants should preferably propose common change projects.
Selection criteria
Only 25 individuals are accepted for each training. Therefore, numerous selection criteria are considered: the group composition, individual countries and organisations. In addition, variety amongst individuals are sought, e.g., gender, work backgrounds, work positions, no. of years in the industry, academic backgrounds, mixed specialist areas and so forth. It is also not guaranteed that all candidates with the same change project will be selected for training.
Language requirements
The training programme will be organised and conducted in English. Proficiency in English shall be certified on the Application form. In addition and prior to selection, an interview will be held with each considered applicant.
Health requirements
Considering the training programme may consist of international travels and work away from home, good health and full working capacity is conditioned. It is therefore recommended that candidates undergo a medical examination before filling in the Medical Statement in the Application form.