MINING, COVID-19 AND DIGITAL MATERIAL
The Mine Water & Mine Waste Managment programme is postponed due to the Covid-19 pandemic. Instead, digital material is being produced which will give greater impact for partner organisations.
Postponement due to Covid-19 pandemic
Because of the global restrictions on travelling and larger gatherings we have postponed the two planned programmes for 2020 to 2021. In addition, the two regional conferences, initially planned for March (Nairobi) and August (Dar Es Salaam) 2020, are tentatively moved to November/December 2020. A more exact date, and if we can carry out the seminars, will be announced in as soon as possible. The programme is currently carrying on with decreased activities due to the Covid-19 pandemic. To follow the various rules and regulations associated with the virus outbreak, the Geological Survey of Sweden and its collaborators in Sweden; Luleå University of Technology and the Swedish Environmental Protection Agency, together with our African collaborative organisations have taken measures to do our part to help stop spreading the virus.
Expansion of the free online course on mining, environment and human rights

Due to the lack of training sessions during 2020, the ITP-team is committed to creating new material for the "GeoIntro" free online course. The new material will further expand the current topics but also introduce new material, such as virtual field visits, in-depth discussions on ASM and innovative scenario exercises. The new material will be launched later this year and will be available for free, without registration, for all to take part of. Stay tuned!
In-depth look into the Mine Water & Mine Waste Management course: Storliden mine visit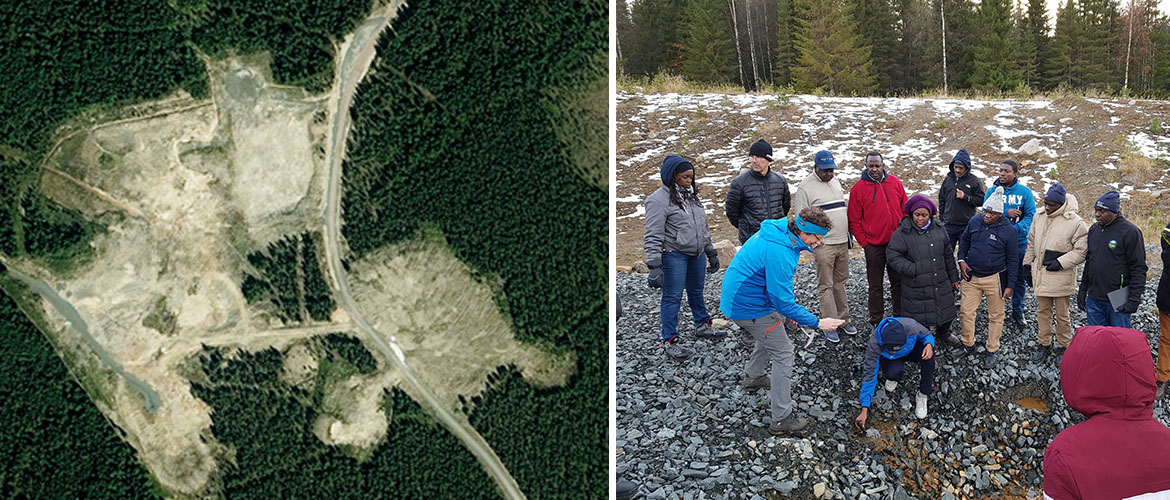 One of our recurring field visits is to the closed Storliden Mine near Malå town. The mine opened and closed quite recently and under modern mining legislation. During the visit, we see the result of mine rehabilitation and discuss the ongoing efforts to remedy impacts on water quality. At Storliden there is especially opportunity to use some basic and inexpensive water monitoring equipment to learn more about mine water and mine waste management.
The mine operated between 2002 and 2008. Zink and copper was mined, with some gold and silver. The mine area was about 100ha, with 40 employees. Ores from the Storliden mine were processed at other sites.
During remediation, the underground mine was backfilled with waste rock, tailings from other mines, contaminated soils and hydroxide sludges. All surface infrastructure were removed and disturbed ground was covered with soil (till). Revegetation is on-going to this day. Wells and water sampling points are monitored 1-3 times annually.
Environmental concerns reviewed during the visit is, for example, upwelling groundwater, water in monitoring bores and in wells which have elevated concentrations of metals particularly arsenic. Evaluations and mitigations are ongoing at the site to improve the rehabilitation efforts.
Study visit to Migori county, Kenya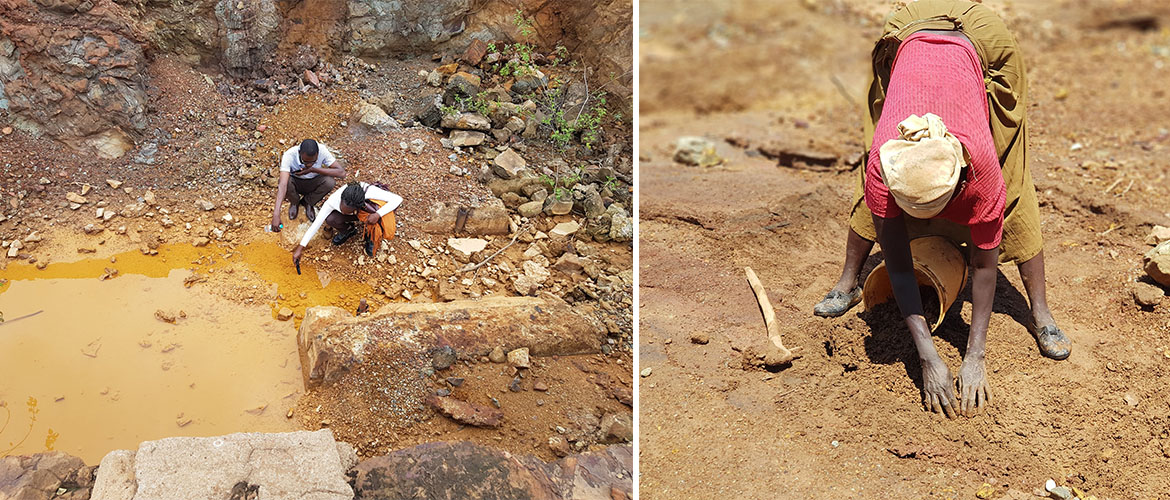 Governance of the mining industry requires knowledge about a broad spectrum of subjects, from geology and geochemistry to social impacts and human rights. Managing and mitigating the environmental and social impacts of mining has come to be one of the most considered aspects when planning, reviewing och permitting mining projects.
To support the on-going change projects developed by Kenyan authorities, as well as to learn more about the ASM sector in Kenya, a part of the ITP team was invited to a study visit in Migori, Kenya. During the visit, the mentors and participants studied the sites and gave input to local stakeholders about environmental awareness, health impacts and mitigation efforts. In-depth talks on the topic of ASM in Kenya will be given at the Mining & Sustainability Conference, Nairobi, hopefully later this year (as stated above).
Photos from the study visit, as well as in-depth interviews with participants at Kenyan authorities, can be found in the newly produced brochure below (click the picture).