Nothamn
A bedrock window to the birth of geological province of Bergslagen, famous for its ores.
These cliffs by the sea reveal much of geological history of the geological province of Bergslagen, a province in eastern, central Sweden that holds a lot of ore-deposits and several mines. The mosaic pattern of rock types include those formed both deep in the earth's crust as well as on the surface through magmatic and volcanic processes. The bedrock has also been subjected to heavy deformation and metamorphism. Eye-catching features are transecting dykes, folding patterns, mega-crystals and assemblages of skarn minerals.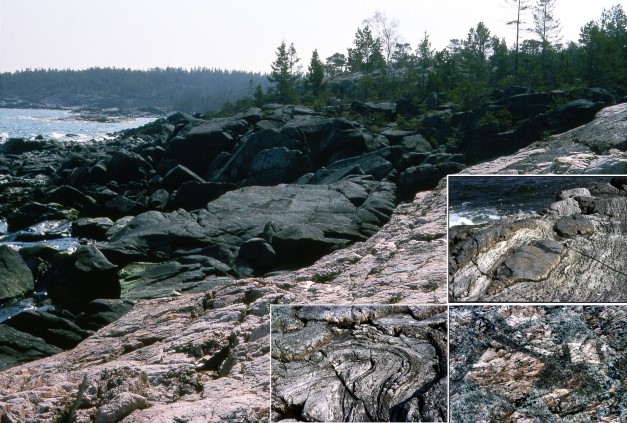 There is a clear boundary between the pinkish pegmatite in front, and the blackish gabbro in the back. The bedrock also shows boudinage structures (top inset); folded marble with layers of volcanic ash (left inset); and very large feldspar crystals (right inset). Photos: Per Nysten, SGU.
Senast granskad: 2018-12-13