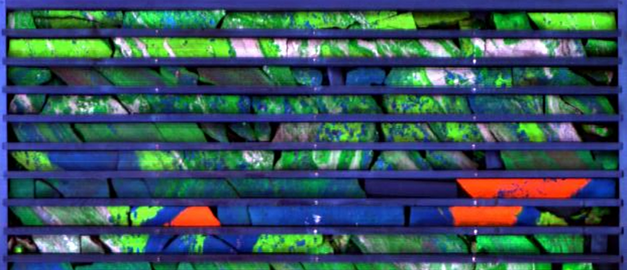 2 March 2015
First results from drill core scanning project
In 2014, SGU started a two-year project to scan 200,000 metres of drill core from Norrbotten and Västerbotten in northern Sweden. The project includes high resolution optical photography and hyperspectral infrared core imaging. The first results of the project will now be released.
SGU will release the first results of the project in connection with the PDAC convention in Toronto, Canada on 1–4 March. The release includes IR images (False Color Composites) and photographs from ten drill cores from different areas in Norrbotten and Västerbotten, and can be accessed through our map viewer "Drill cores".
Raw data and processed data from these ten drill cores, as well as additional drill cores, will be made available April 15th. Data can then be ordered from our customer services.
The data can be used to increase the knowledge of mineralogy and bedrock in the area, to allow better utilization of the country's mineral resources and in research.