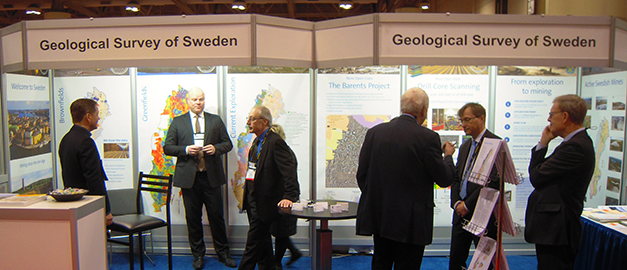 11 March 2015
Cautious optimism at PDAC
The Geological Survey of Sweden has every year since the mid nineties attended the PDAC convention arranged by Prospectors and Developers Association of Canada. This is where the world's mineral industry meets. With a booth at prime location we can conclude another rewarding convention.
This year's PDAC attracted 23578 visitors from over 100 countries. This is slightly less than last year's over 25000 visitors. At SGU's booth at the Trade Show a slight reduction in number of visitors was noted. But among those visitors, several expressed a genuine interest in Sweden. Our ongoing drill core scanning project, a part of the Barents Project, attracted particular interest. A selection of a few selected high grade mineralized specimens on display was appreciated and triggered discussions about the potential of finding ore in Sweden.
As the junior sector is scraping the bottom, optimism is apparently on the rise since the industry is cyclic, and a bottoming herald a better future. However, prospectors and miners are optimistic by nature and the fact remains that metal prices are low and it is presently very difficult to raise capital for exploration projects.